Hey, welcome! I'm thenew
this is my blog on Xbox that you are reading.
I discovered the original Xbox at my friend's house, playing Halo CE. It was the perfect continuation of GoldenEye 007 and Perfect Dark. Then came Star Wars : Knights of the Old Republic, Halo 2, Conker : Live & Reloaded, Splinter Cell, etc.
But it was with the release of the Xbox 360 that I joined online communities, French forums like xboxlive.fr and xbox-mag.net. I remember the ARG ourcolony for the launch of the console, the reveal of its design.
I bought the console day one, in France. And it died three times, replaced under warranty, always with no cost and fairly fast.
I joined a fan website, called xenon-360, writing news and tests, learning PHP development, doing some designs and wallpapers, editing videos.
Xbox was aiming at blogs, fan sites, first influencers back then so I was invited to some presentations when I moved to Paris (Forza, Brink, From Dust, Gears of War).
It was formative years. I still have the archives online.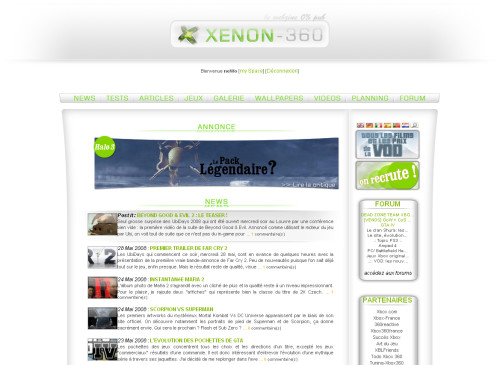 Then arrived the Kinect years and I stopped participating and followed less and less the news.
For the Xbox One, I was curiously looking at the launch campaign: it was a mess, but I'll write my opinion about it one day.
I got a secondhand console a few months after the release just because this salaryman, who received it as a business gift (haha), offered me a great deal.
The console is still running and that's mainly why I'm not buying a Series for now.
A little hyped, against my will, by the new generation launch, I built this place, doxbox.live, to scribble my thoughts, revisit Xbox history and have some fun.
Thanks for reading, if you want to contact me, I'm on Twitter or find me on thenew.fr.